Skip to Content
Chris Herren Is Coming to Cranston for a Community Event!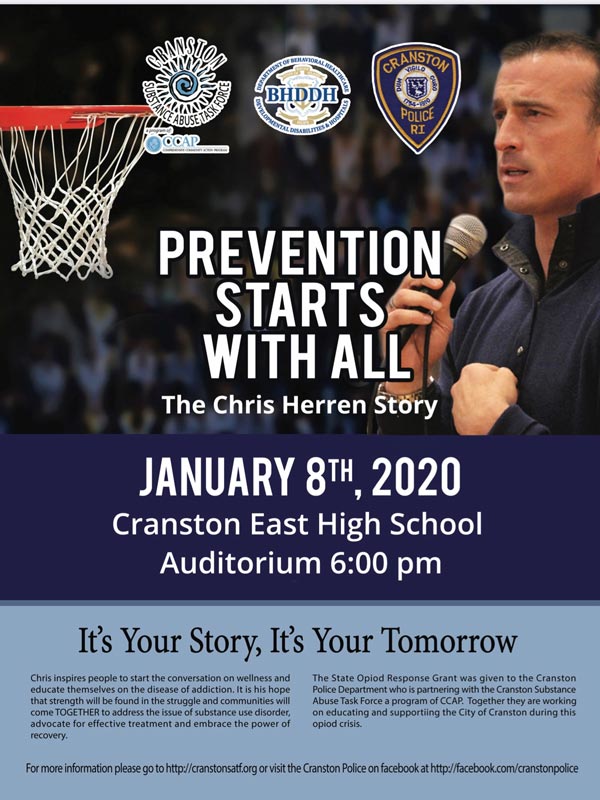 Chris Herren is a former Celtics player
Former Celtics player Chris Herren is coming to Cranston, RI!
The Cranston, RI Police Department, and the Cranston Substance Abuse Task Force are welcoming former Celtics player Chris Herren to a community event on January 8th at Cranston East High School. All are welcome and encouraged to come to this exciting opportunity for the community to come together.
Chris Herren inspires people to start the conversation on wellness and educate themselves on the disease of addiction. It is his hope that strength will be found in the struggle and communities will come TOGETHER to address the issue of substance use disorder, advocate for effective treatment and embrace the power of recovery.
The State Opioid Response Grant through RI Dept. of Behavioral Healthcare, Developmental Disabilities & Hospitals and SPC Regional Prevention Coalition was given to the Cranston Police Department who is partnering with the Cranston Substance Abuse Task force a program of CCAP. Together they are working on educating and supporting the City of Cranston during this opioid crisis.
The Cranston Substance Abuse Task Force is a program of Comprehensive Community Action, Inc. (CCAP). The mission of the Cranston Substance Abuse Task Force is to promote healthy attitudes and behaviors for youth and families through community action with the focus on substance use and misuse reduction and prevention.